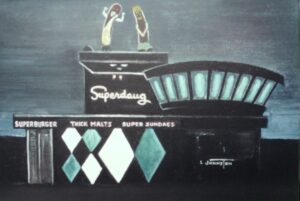 Superdaug
Chicago, Illinois
One of the few original drive-in restaurants left, this one being a Hot Dog Stand, complete with Car Hop service has been at the intersection of Milwaukee, Devon and Nagle in the Norwood Park section of Chicago.
Years ago, while exhibiting at street fairs in the Chicago area, such as the well known Wells Street Arts Festival, I was asked if I had ever painted Superdaug.  After hearing about the two 12 ft. male and female hot dogs on the roof, with blinking eyes, I had to check it out.
The Hot Dog Stand opened in 1948 and became a popular spot for years to come.  It could have been the crinkle-cut French Fries accompanied by the signature pickled green tomato, or maybe it was the winking and blinking eyes of the two roof icons that may have not only been flirting with each other, but even to the passersby, in need of something to satisfy their hunger cravings.
I eventually added a painting of the Drive-in Hot Dog Stand to my collection. Other Chicago paintings I have done are:  Hot Diggity Dog; Chicago Theatre; Wrigley Field
Although the painting is not from Chicago, my
McDonald's
prints were popular.
Prints:
ALL PRINTS are printed on canvas and stretched on wooden stretcher bars and prices vary according to size ordered. Most are 2:3 proportion
Options:
wrapped print- part of the image is wrapped
around the sides of the wood.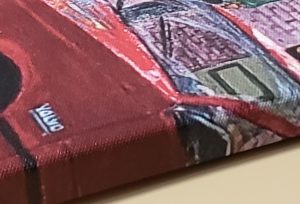 Non-wrapped print- The full image is on the face, with white or black edges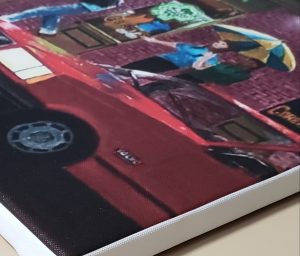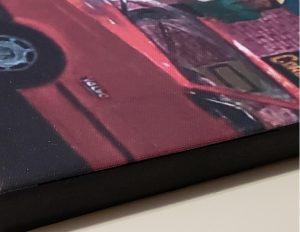 (frames and hardware are not included)
11″ x 14″………. $148.82
16″ x 20″ ………. $204.72
16″ x 20″ ………. $375.00 Original painting on stretched canvas is not available.