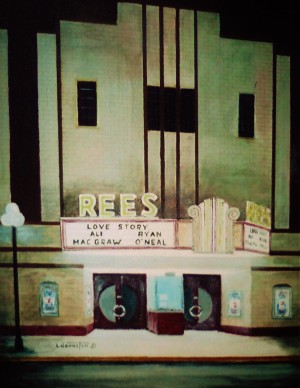 Rees Theatre
Plymouth, IN
Plymouth, Indiana is the home of the famous Blueberry Festival, where thousands of people converge on the little town in northern Indiana. The Rees theatre has seen its share of ups and downs. After a long rest, the Rees Theatre is getting new breath, with the remodeling that has been taking place.  It seems like the whole town is getting involved in its restoration.
While the theatre was in limbo, years ago, I painted this as a token to the town.  While traveling from one show to another for years, I chose interesting places that the townsfolk could identify with when they viewed the paintings.  The Rees Theatre was one of those iconic places.
Other Theatres I have painted are: The Palace in South Bend, IN;    Fox in Detroit,   Atlanta's Fox,   Fox #2 in Atlanta;   The Chicago Theatre;  The Los Angeles Theatre;   Loew's Theatre in Jersey City, NJ,   Warner Theatre, Elkhart and the Lerner Sign in Elkhart, Indiana.
Prints:
ALL PRINTS are printed on canvas and stretched on wooden stretcher bars and prices vary according to size ordered. Most are 2:3 proportion
Options:
wrapped print- part of the image is wrapped
around the sides of the wood.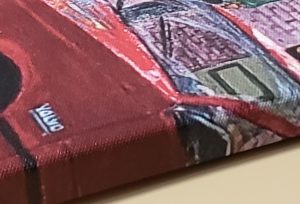 Non-wrapped print- The full image is on the face, with white or black edges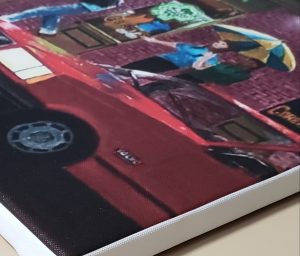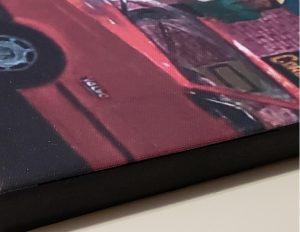 (frames and hardware are not included)
11″ x 14″Black Edge………. $148.82
11″ x 14″ White Edge………. $148.82
11″ x 14″ Wrapped Edge………. $148.82
16″ x 20″ Black Edge ………. $204.72
16″ x 20″  White Edge………. $204.72
16″ x 20″ Wrapped Edge………. $204.72
16″ x 20″ ………. $375.00 original painting on stretched canvas not available.