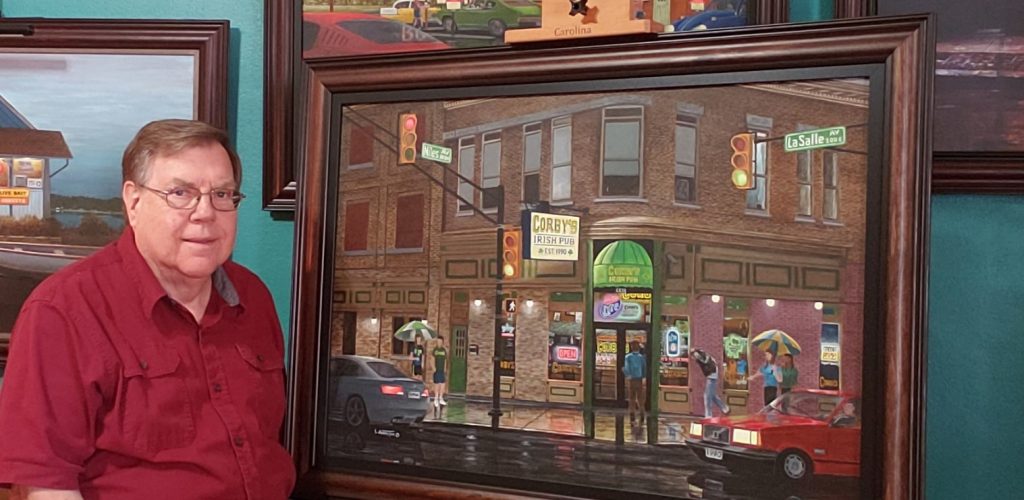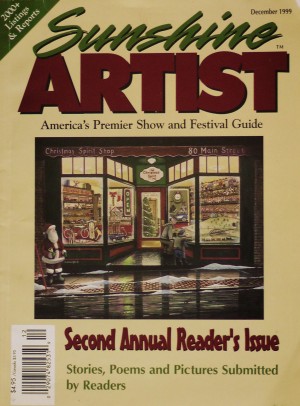 Larry Johnston was the Cover Artist, Sunshine Artist Magazine, December, 1999
Self-taught artist, Larry Johnston is a native of South Bend, Indiana.  He grew up through elementary school in Cassopolis, Michigan.  His Middle and High School years were spent back in South Bend.
Larry began drawing, almost as a toddler, and won his first award at 9 years of age.  He became more dedicated in High School.  As President of the Art Guild, he helped others interested in art express their talents. He was awarded a Gold Key from the Scholastic Art Association, in Regional Competition, which qualified his work for National Competition in New York.
After High School, he attended Lake Michigan College, in Benton Harbor, Michigan where he became the editorial cartoonist for the college newspaper. In 1967, he designed the official seal for their State of Michigan College Newspapers.
Larry then attended Ivy Tech North Central College in South Bend, Indiana and majored in Advertising for Commercial Art and later became an illustrator and Commercial Artist near Atlanta, Georgia.
During the mid 1960's, after experimenting in pencil, pastels and oils, he settled in the acrylic medium. It was in the late 1960's when he started selling his artwork.  "The shows available then, were not as sophisticated or as well attended as they became in the more recent years", according to Larry.
While growing up in the 1950's and 1960's, Larry was expose to Diners, Drive-in Restaurants and Outdoor Theatre's and of course a gas station on every corner.  Remembering them, he decided to capture that era in his paintings, preserving those places that many are now just memories.
He grew up in a small town where everyone knew everyone and he had the freedom to explore the area.  It was a great time to grow up.  Mom & Pop business' were thriving and storefronts were decorated, begging you to come into their stores.  His early paintings include barns, covered bridges, gas pumps and train depots to name a few. Larry then branched out, reviving those diners, drive-ins, theatres and late evening scenes, reflecting the lights and neon, often on a rainy night or a wet street.
In the early 1980's he expanded to shows located outside the local area, to include many of the top 200 shows in the country.  His work has been recognized throughout the Country with Awards of Distinction, Best of Show and many other awards. He and his wife Evelyn exhibited and sold his paintings and prints in as many a 43 shows in 27 States every year until 2006.  He still has had his work selected and displayed in Museums and Festivals.
Larry's paintings have been collected worldwide by Corporations, Individuals and Politicians, (Including one US President's family, and a Governor's Family).  His Art has been purchased by many people representing such names as, Coca Cola, Pepsi, Kirchman Corp., Krispy Kreme, McDonald's, Dairy Queen, Coral Gables Ford Lincoln Mercury, Oliver Ford Lincoln Mercury, Steak & Shake, Versace and White Castle.