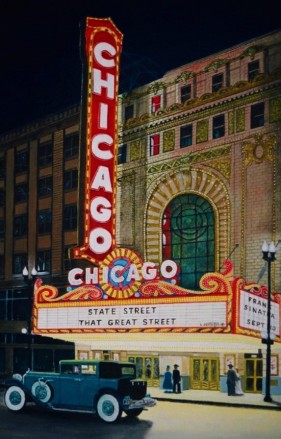 Copyright Larry Johnston
The Chicago Theatre,
Downtown, Chicago, Illinois.
There was a time when I started painting neon signs in the paintings, so while I was in Chicago, I couldn't help but to photograph the Chicago Theatre. Little did I know at the time, the hit movie "Chicago" would be released to the theatres within a year of when the painting was finished. The painting became the center of attention shortly thereafter. The movie came out in 2002 and has become one of my favorites, especially the music soundtrack.
The Chicago theatre, was built in 1921 for 4 million dollars, which included ornate architecture and beautiful murals above the stage and on the ceiling.  The vertical "Chicago" sign outside measured six stories high.
The theatre closed in 1985 and was saved from demolition and reopened in 1986 with a gala performance by Frank Sinatra.
The Chicago, is one of several theatres I have painted from around the country. Other Theatres I have painted are: The Palace in South Bend, IN; The Reese in Plymouth, IN;  Fox in Detroit, Atlanta's Fox, Fox #2 in Atlanta;  The Los Angeles Theatre; Loew's Theatre in Jersey City, NJ, Warner Theatre, Elkhart and the Lerner Sign in Elkhart, Indiana.
Prints:
ALL PRINTS are printed on canvas and stretched on wooden stretcher bars and prices vary according to size ordered. Most are 2:3 proportion
Options:
wrapped print- part of the image is wrapped
around the sides of the wood.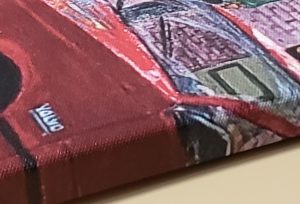 Non-wrapped print- The full image is on the face, with white or black edges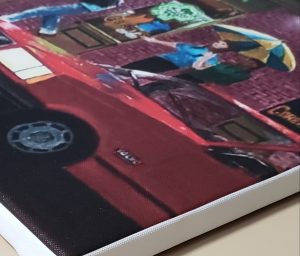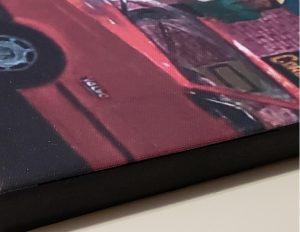 (frames and hardware are not included)
24″ X 36″ original painting on canvas not available.