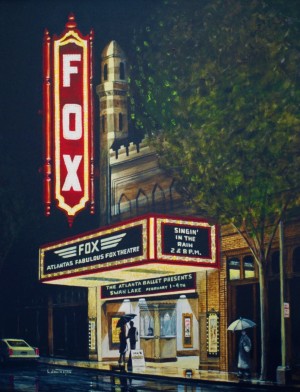 The FOX Theatre
Atlanta, GA
"Singin' in the Rain"
Located in the middle of Atlanta, Georgia the FOX Theatre, built and opened in 1929, with vaudeville and later cinema, now features Broadway Shows and Theatrical performances. Since the theatre has become an Icon to Atlanta, I felt it necessary to create a painting of the famous FOX.
The original painting was sold at the Yellow Daisy Festival at Stone Mountain Park, just east of Atlanta. The festival is one of the top-rated festivals in the country. Prints of the painting were popular through the years of exhibiting around the country, especially in Georgia. It was one of the first paintings where I highlighted the painting with rain and water reflections at night.
Other Theatres I have painted are: The Palace in South Bend, IN; The Reese in Plymouth, IN;  Fox in Detroit, Fox #2 in Atlanta; The Chicago Theatre; The Los Angeles Theatre; Loew's Theatre in Jersey City, NJ, Warner Theatre, Elkhart and the Lerner Sign in Elkhart, Indiana.
Prints:
ALL PRINTS are printed on canvas and stretched on wooden stretcher bars and prices vary according to size ordered. Most are 2:3 proportion
Options:
wrapped print- part of the image is wrapped
around the sides of the wood.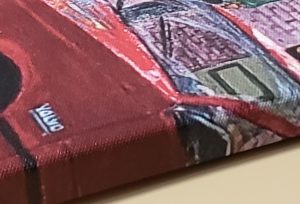 Non-wrapped print- The full image is on the face, with white or black edges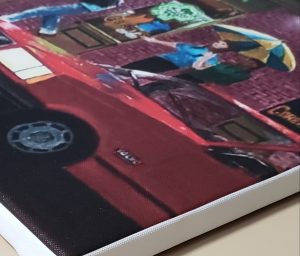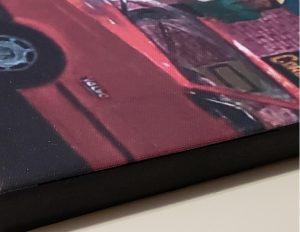 (frames and hardware are not included)
24″ X 36″ original painting on canvas not available.