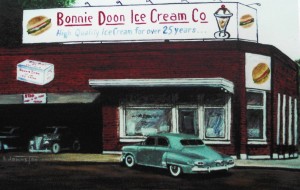 Bonnie Doon Ice Cream,
Mishawaka, IN
In 1938 Bonnie Doon Ice Cream was established and eventually grew into a local chain of drive-in Ice Cream shops and restaurants. The first business was located on 4th Street, in Mishawaka, Indiana.
I had painted one of the other Bonnie Doon drive-ins, located on S. Michigan St, in South Bend, IN and the painting was on display at  local Art show, when a couple approached me to paint the 4th Street Ice Cream Shop.  They used to date when they were young and that was their favorite date place.  I painted the building as it looked at that time, putting their Studebaker in the painting.
The building was also the factory for making the ice cream for the other stores.  It now sits empty, as the store closed a couple of years ago.  Only one store remains, which was purchased several years ago.  Bonnie Doon eventually entered the local retail market with a variety of flavors.
Here the other Bonnie Doon paintings I have painted: Bonnie Doon, US-31 North, South Bend; Bonnie Doon, S. Michigan St., South Bend; Bonnie Doon on Lincolnway West in Mishawaka; Bonnie Doon on 4th St. Mishawaka in the 1950s.