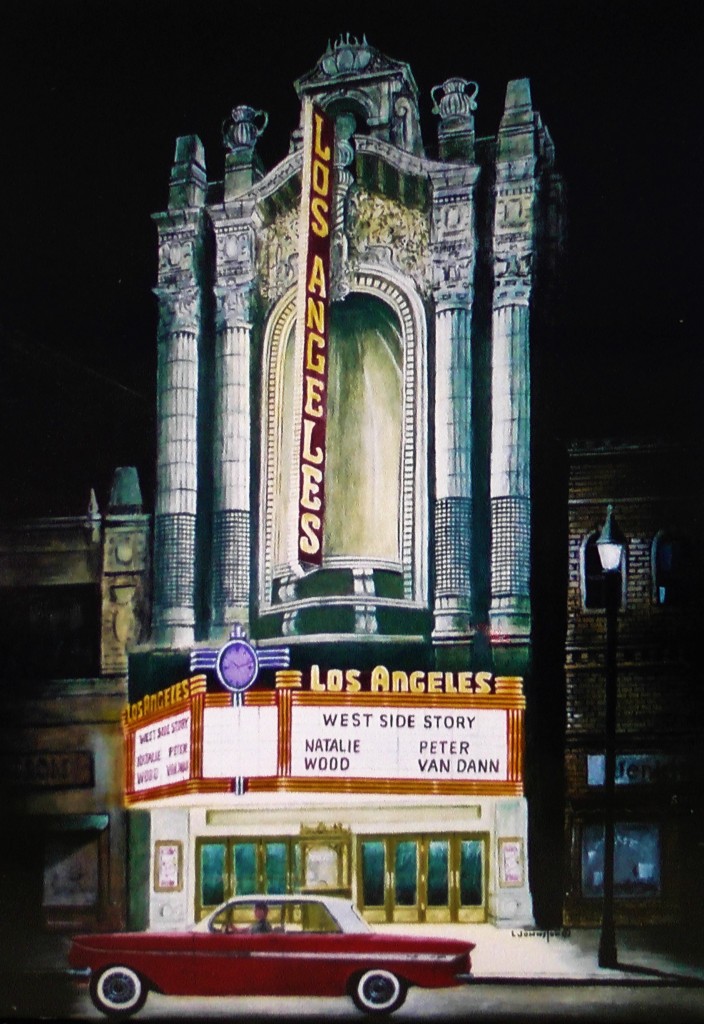 Copyright Larry Johnston
The Los Angeles Theatre
While looking for nostalgic places to paint, I was asked at a show if I had any theatres. South Bend, where I grew up, had several, so I took pictures of the buildings, which were still standing, I started researching the History of the theatres and was able to reconstruct them to the year of their beginning.
I started with the Palace Theatre in South Bend and eventually painted theatres in Atlanta, Los Angeles, Detroit and New Jersey. I also painted several Drive-in Theatres.
The Los Angeles Theatre, located at 615 S. Broadway in downtown Los Angeles opened in 1931.  The inside was decorated with murals, mirrors and carved plaster and was made primarily for showing films.  The theatre is equipped for live stage performances, as well as for showing movies.
Other Theatres I have painted are: The Palace in South Bend, IN; The Reese in Plymouth, IN;  Fox in Detroit, Atlanta's Fox, Fox #2 in Atlanta; The Chicago Theatre;  Loew's Theatre in Jersey City, NJ, Warner Theatre, Elkhart and the Lerner Sign in Elkhart, Indiana.
Prints
ALL PRINTS are printed on canvas and stretched on wooden stretcher bars and prices vary according to size ordered. Most are 2:3 proportion
Options:
wrapped print- part of the image is wrapped around the sides of the wood
Non-wrapped print- The full image is on the face, with white or black edges
(frames and hardware are not included)
24" x 36" Original Painting on canvas Not Available