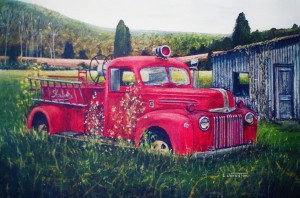 "The Fire Truck"
Ripley, West Virginia
While traveling around the country exhibiting at hundreds of Art shows and festivals, One of the best in the Country was the Mountain State Arts & Crafts Festival, in Ripley, West Virginia. It was rated #1 in the Country by Sunshine Artist Magazine a number of years ago.
As I returned to this show in July of each year with new paintings, I kept seeing this old fire truck just sitting out in a field.  You might say that it's days of fighting fires were over and it was put out to pasture. (Pun intended). Eventually, I stopped and took pictures of the truck and painted the acrylic painting on canvas.
Every year since, I sold quite a few prints, especially to the local residents. I was told by the property owners, that the fire truck had been used in parades since its retirement.  That's where the Stroh's sign on the truck came from. It was put on after retirement.
Other Fire Department related paintings include:  Fire Dog; Fire Station #2 Hose Reel; Miami Fire Station #6 and Cassopolis Fire Station.
Prints: 
ALL PRINTS are printed on canvas and stretched on wooden stretcher bars and prices vary according to size ordered. Most are 2:3 proportion
Options:
wrapped print- part of the image is wrapped
around the sides of the wood.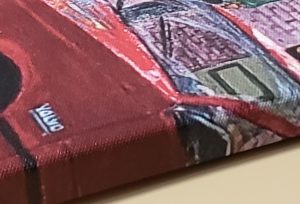 Non-wrapped print- The full image is on the face, with white or black edges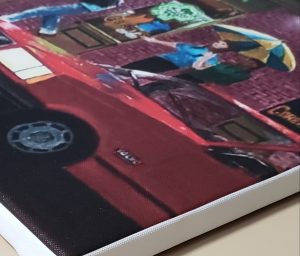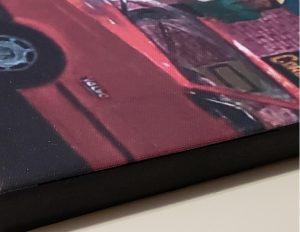 (frames and hardware are not included)
11″ x 14″Black Edge………. $148.82
11″ x 14″ White Edge………. $148.82
11″ x 14″ Wrapped Edge………. $148.82
16″ x 20″ Black Edge ………. $204.72
16″ x 20″  White Edge………. $204.72
16″ x 20″ Wrapped Edge………. $204.72
16″ x 20″ ………. $375.00 original painting on stretched canvas not available.