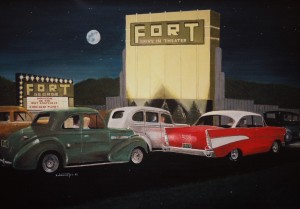 Copyright Larry Johnston
Ft. George Drive-in Theatre
Southgate, Michigan
During the outdoor drive in era, the Ft George Drive-in was built in 1950.  It was located at 16300 Fort Street, in Southgate, Michigan.  The theatre had one screen and could hold 1200 cars, which later, after remodeling, was able to service 1300.
During a storm in 1990, the screen was damaged by the high winds. It was eventually torn down in 1991.
While touring with my paintings, I had done several theatres, when I was told about the Ft George theatre at the Wyandotte Art Fair, just north of Southgate, where the drive-in theatre used to be.  After some research, I found a black and white sketch of the theatre.  I believe it was on a matchbook cover.
I painted the 24 x 36 painting before the show, the following year. I made prints of the painting and it became a popular item in the area. It's amazing how many people remember that theatre along with some of the stories that followed.
Other outdoor Theatres I have painted are:  28th St. Drive-in, St. Petersburg, FL:  Tri-way Theatre, Plymouth, IN
Prints:
ALL PRINTS are printed on canvas and stretched on wooden stretcher bars and prices vary according to size ordered. Most are 2:3 proportion
Options:
wrapped print- part of the image is wrapped
around the sides of the wood.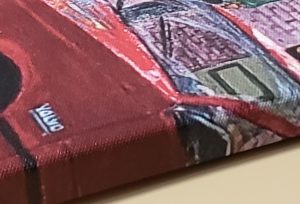 Non-wrapped print- The full image is on the face, with white or black edges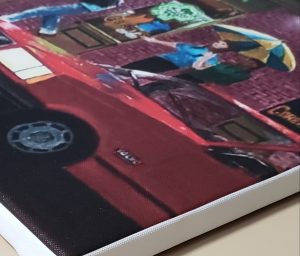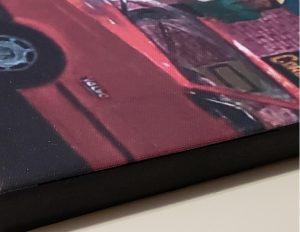 (frames and hardware are not included)
24" x 36" ………. $1,295.00 Original Painting
24" x 36" ………. $1,295.00 Original Painting