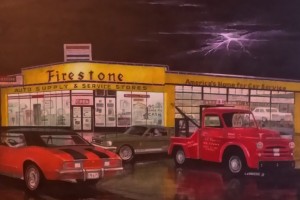 Copyright Larry Johnston
Firestone Store
New Albany, Indiana
As many of you know, while traveling around the country, I tried to have paintings from the areas where the Art Festivals were located, so I would have something that they could identify with and enjoy.  I exhibited in New Albany, Indiana, which is located just across the Ohio River from Louisville, Kentucky.
I took pictures of several places around the town and one of them was the Firestone Store downtown. I liked the design of the store, so I decided to use the lights to my advantage, by making it a rainy scene, to pick up all the reflections.  As usual, I put in the cars that would fit in that era.  I hope you like it.
Prints ALL PRINTS are printed on canvas and stretched on wooden stretcher bars and prices vary according to size ordered. Most are 2:3 proportion Options:
wrapped print- part of the image is wrapped
around the sides of the wood.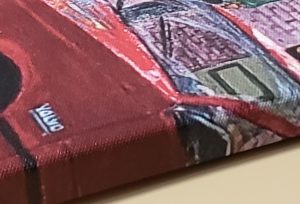 Non-wrapped print- The full image is on the face, with white or black edges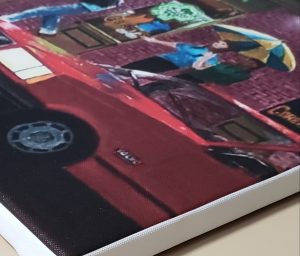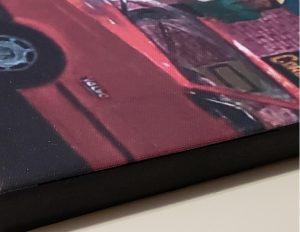 (frames and hardware are not included)
24" x 36" ………. $1,295.00 Original Painting
24" x 36" Original Painting on stretched canvas $1,295.00