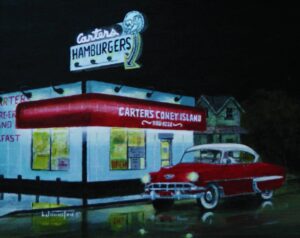 Carter's Coney Island
Lincoln Park, Michigan
 One of my favorite northern art festivals was located in Wyandotte, Michigan.  I always tried to have something for the locals to identify with from their area.  I couldn't resist taking some pictures, when I saw Carter's Coney Island at 2908 Fort Street, in Lincoln Park, Michigan, which was not too far away from the festival.
When you enter through the door of Carter's, you step back in time 70 years and witness the two horseshoe shaped counters.  Besides an early morning breakfast and hot coffee, you hear all the local conversation from the area happenings.
The food is just like the burger joint.  They make old school burgers and fries, or you can have grilled slider, chili or hot dogs, however you like.  How about Biscuits and gravy or Ham & Bean soup, made with big chunks of ham.
The painting takes you back seventy years on the outside, so you can imagine what you will find on the inside.