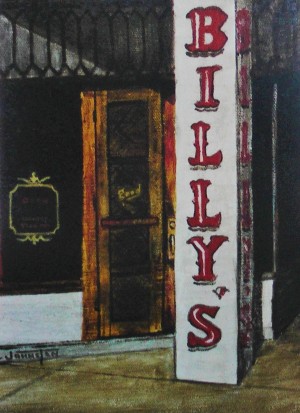 Billy's Ritz,
Roanoke, VA.
For several years, in late 1980s and early 1990s, I exhibited at the Arts Festival, in Roanoke, Virginia.  I might add, they put on a great event, especially the entertainment for the public.  Since it was downtown, Roanoke, we were able to visit several restaurants, during our visit.
One of the restaurants, was "Billy's Ritz", located adjacent to the Roanoke City Market.  It was housed in the previous site of the 60 room "Ames Hotel", which was built in 1910, according to records. Billy's Ritz, was an upscale American, Steakhouse, which operated for 27 years, before selling in 2008.
Several other paintings from Roanoke, that I painted, was "Texas Tavern", "The Roanoke Wiener Stand" and "Agnew Seed Store".


I love Roanoke and could live there! It is such a cool town.  Here are a few of my favorite places around town…