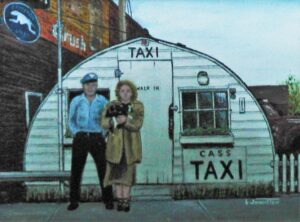 Cass Taxi
Cassopolis, Michigan
Not all paintings, that I created were for sale.  I have painted a number of them as gifts for members of our family. Cass Taxi, was a present for my mother and father.  When my dad got of WWII, he bought a chicken coop and made a taxi business in the center of the village of Cassopolis, Michigan.
In addition to the taxi business, of which my mother and dad ran 24 hours a day between the two of them, they also had a Greyhound bus station.  The painting was a picture of them standing in front of the office, with my mother holding our Boston terrier, "Puggie".
They ran the Taxi business from 1947 until 1957.  I painted the painting and gave it to them for Christmas in about 1989.  The painting now hangs in my home.