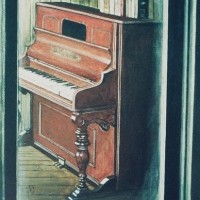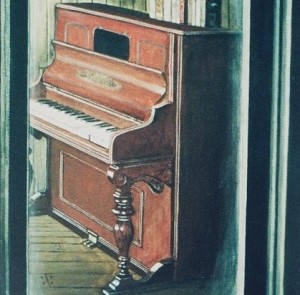 Copyright Larry Johnston
"Piano Through a Window"
Somewhere in Georgia
While traveling around the country, I was always on the lookout for places and things of nostalgia.  One Sunday afternoon, while driving down a 2-lane road in west-central Georgia, between Atlanta and Macon, we passed through a community which may have been too small to call a town, but it was the community of Concord, Georgia. They had a building, with a row of stores on the north side of the road.  In the R.F. Strickland Building, was an antique shop, so we stopped, camera in hand.  It was obvious they were closed because there were no cars in sight and no people.  As I peered in the windows, I saw several old things that would interest me.  One was an old carousel horse and another, an upright old piano covered with dust.
I took pictures of both items, but since they were closed, I shot them through the window, hence the painting is called "Piano through a Window".
Prints:
ALL PRINTS are printed on canvas and stretched on wooden stretcher bars and prices vary according to size ordered. Most are 2:3 proportion
Options:
wrapped print- part of the image is wrapped
around the sides of the wood.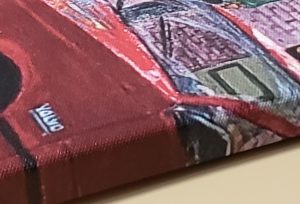 Non-wrapped print- The full image is on the face, with white or black edges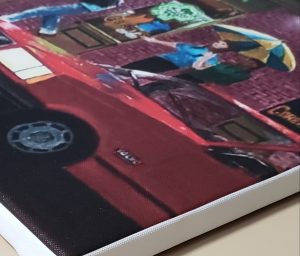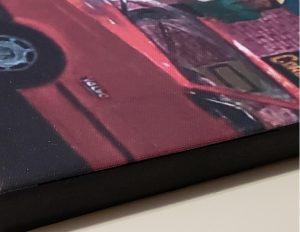 (frames and hardware are not included)
11″ x 14″Black Edge………. $148.82
11″ x 14″ White Edge………. $148.82
11″ x 14″ Wrapped Edge………. $148.82
16″ x 20″ Black Edge ………. $204.72
16″ x 20″  White Edge………. $204.72
16″ x 20″ Wrapped Edge………. $204.72
16″ x 20″ ………. $375.00 original painting on stretched canvas not available.