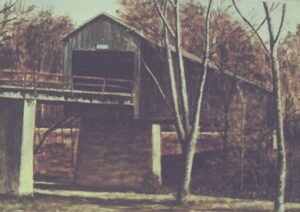 Euharlee Covered Bridge (Autumn)
Euharlee, Georgia
In 1983, while doing an art show in Georgia, I was asked if I would paint a picture of a covered bridge right next to some vacant property, where a man was going to build a home.  Evelyn and I were brand new to the area, straight from Orange County, California.
We took off toward Euharlee, where the bridge was located.  He also told us that it was called Euharlee, because it was out in the country where "you harlee" ever see anyone. Not knowing the dress code in north Georgia yet, he showed us the bridge and then walked his property, through the stickers and briers toward the Euharlee Creek, which ran next to his property.
I told you all that, to tell you this.  We both had on dress clothes and mohair sweaters, which was popular during that era (In California!!!!!!).  It took forever to remove all the burs from the sweaters.  I believe we put them in storage after that experience.
After the painting was finished, I painted another view of the bridge and was able to display it in a festival, in which won 3rd place. Not bad for starting out in the area.
I later was commissioned by a lady from Powder Springs, GA, to paint the same bridge with a different view. The first painting was in the fall and the second one was in the Spring. Click HERE to see the second painting.
Below are photos of our covered bridge sets, we sold when on the road. They were matted and framed photo prints.



Links to other covered bridge paintings I have done can be found here:
Euharlee Covered Bridge-Spring
Prints:
PAPER PRINTS are available for $35.00, they are shipped in a tube.
ALL PRINTS are printed on canvas and stretched on wooden stretcher bars and prices vary according to size ordered. Most are 2:3 proportion
Options:
wrapped print- part of the image is wrapped
around the sides of the wood.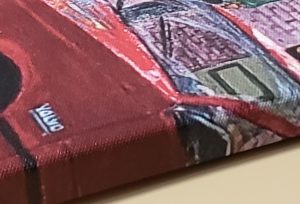 Non-wrapped print- The full image is on the face, with white or black edges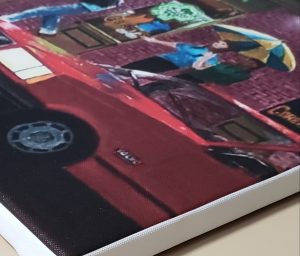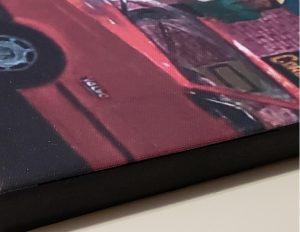 (frames and hardware are not included)
11″ x 14″Black Edge………. $148.82
11″ x 14″ White Edge………. $148.82
11″ x 14″ Wrapped Edge………. $148.82
16″ x 20″ Black Edge ………. $204.72
16″ x 20″  White Edge………. $204.72
16″ x 20″ Wrapped Edge………. $204.72
16″ x 20″ ………. $375.00 original painting on stretched canvas not available.