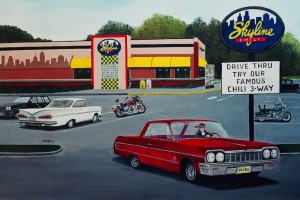 Copyright Larry Johnston
Skyline Chili
Cincinnati, Ohio
Founded in 1949, the first Skyline Chili on Glenway Avenue, in Cincinnati, Ohio is an area now known as Price Hill.  The building is no longer there, however around the corner at 3714 Warsaw Ave (above painting), is a combination restaurant and drive through Skyline Chili.
Famous for their special chili, coney dogs and my favorites, the 3-way, 4-way and 5-way which offers a combination of Spaghetti, topped with their special Chili, covered with cheese.  Onions and beans can be added.
While exhibiting in the Cincinnati area Art shows, we discovered Skyline Chili and soon after, I painted two versions of the restaurant on Warsaw Avenue.  In the first version,  I painted the first wienermobile in the painting, as it was leaving the restaurant. (Click to View).  I guess the driver was craving a Skyline coney dog.  A couple, I met at an art festival, wanted me to paint the painting without those vehicles and wanted theirs in the painting instead. I have personalized other paintings over my career, especially at their favorite restaurants or places they grew up around.
Prints:
ALL PRINTS are printed on canvas and stretched on wooden stretcher bars and prices vary according to size ordered. Most are 2:3 proportion
Options:
wrapped print- part of the image is wrapped
around the sides of the wood.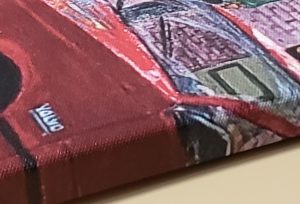 Non-wrapped print- The full image is on the face, with white or black edges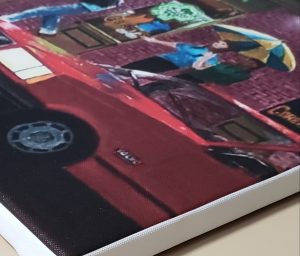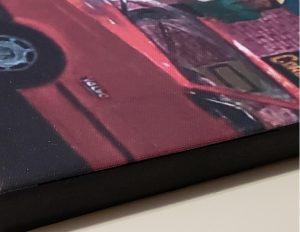 (frames and hardware are not included)
24" x 36" Original Painting on stretched canvas not available