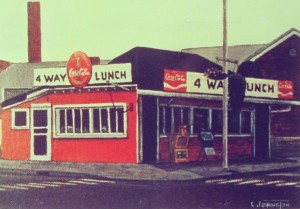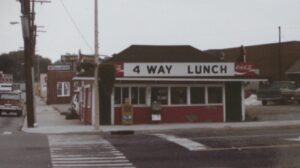 4 Way Lunch
Cartersville, Georgia
Located in Cartersville, Georgia, at the corner of East Main Street (Hwy 41) and Gilmer Street, the  "4-Way", as the locals called it, has been there since 1931. I painted the painting in about 1984, when I was exhibiting in art shows in the area.  It was one of my most popular paintings of the time.
The 4-Way was small, but it had front doors and a side door.  As you entered through the front doors, you noticed there were no tables, just 8 stools across the front of the counter. They may have had 2 or 3 at the end of the counter, but they were always  full. As soon as you finished eating, they asked you to get up, pay and go on about your day. Their menu was simple with hot dogs, hamburgers and fried chicken.  Their gravy burgers, you had to eat with a fork.  I enjoyed watching them make the chili dogs,  The cook lined up all the hot dogs up and down his arm and look a ladle and filled them with the chili. The health department would not allow such a thing in todays world!
The 4-way was not a place for a leisure lunch with friends and conversation.  When you finished eating, you had to leave, to let the next person come in and have a place to sit.  It was quite an experience.
It is located just off I-75 about 40 miles north of Atlanta.  It's well worth the experience.
I painted several Cartersville places, and some really close by, here are the links…
Euharlee Covered Bridge in the Spring