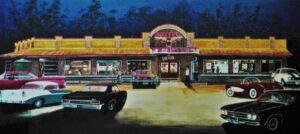 Copyright Larry Johnston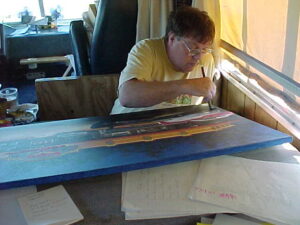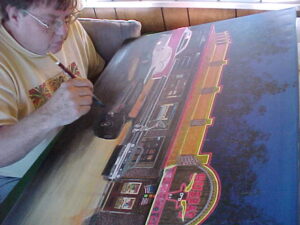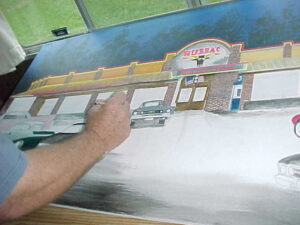 Bubba's Roadhouse & Saloon
Cape Coral, Florida
If you have not visited Bubba's, you need to put it on your bucket list.  Located just east of Burnt Store Road, you can find it at 2121 SW Pine Island Road, in Cape Coral, Florida.
The steakhouse was constructed from 90% recycled parts from old warehouses that were demolished.  When you check out the decor in Bubba's Roadhouse & Saloon, you will find all kinds of memorabilia, including an extensive Beer Can collection and license plates from all 50 States.
You can get in on the fun with their Karaoke and live entertainment. Call for times and dates.
While exhibiting at the Cape Coral Street Arts Festival, the owner approached me to paint a picture of his Steakhouse.  I had a lot of fun, because there was neon everywhere and a parking lot full of cars.  I put some special cars in the painting for him, including "Elvis".  The Cape Coral Festival was one of my favorites.
Prints:
ALL PRINTS are printed on canvas and stretched on wooden stretcher bars and prices vary according to size ordered. Most are 2:3 proportion
Options:
wrapped print- part of the image is wrapped
around the sides of the wood.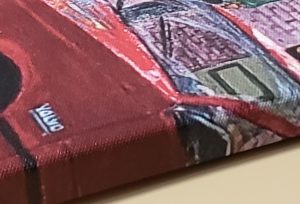 Non-wrapped print- The full image is on the face, with white or black edges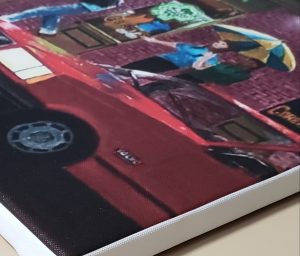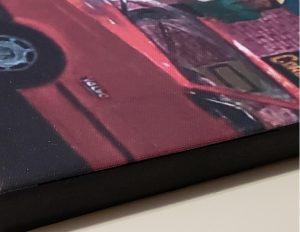 (frames and hardware are not included)
Original painting on stretched canvas not available.