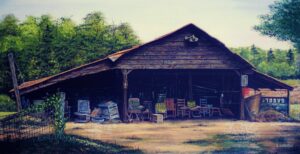 The Gathering Place
Acworth, Georgia
During my travels, looking for good nostalgic material, I would make an effort to drive down some of the back roads. As I was driving down Mars Hill Road, near Acworth, where I was going to exhibit in an Arts & Crafts festival in the near future, I came across this old barn.  It was directly across the gravel road from a beautiful home that had been there for years, but kept up well in appearance.
When I see things like the barn, I let my imagination wander, so here's where it lead me:   The husband or father smoked, but was not allowed to smoke in the house, so he had to go outside.  Across the street he would go and would soon be surrounded with all his friends, as they laugh and tell stories and all their tall tales that keep the conversations lively.
After finishing the painting, I was exhibiting at the Acworth Beach Festival and the owners of the home and barn showed up and revealed the truth.  The man was a prominent person and a member of the local fire department.  The barn was used mostly for storage, but I liked my story better.
The painting was Evelyn's favorite painting, but was eventually sold. Oops!